Prophesy With Confidence
4 Steps Prophecy School
50% Discount!
Until further notice
Getting bored while you're stuck at home because of the coronavirus?
Get 50% off the 4 Steps Prophecy School online course!
Enter the code "lockdown" at checkout.
BIBLICAL, PRACTICAL, PROPHECY TRAINING
Learn how to hear God's voice, how to be sure it's him, interpret what you hear effectively, and share it with confidence.
The 4 Steps Prophecy School empowers you to grow in your gift of prophecy, through a comprehensive program of biblical teaching and practical exercises.
You'll learn the foundations of prophecy, how to get close (and stay close) to God, and establish clear channels so you can hear his voice throughout the day.
You'll be empowered to understand and interpret prophetic words and pictures, as well as how - and when - to share them with others.
Get closer to God every day - even in the midst of your busy schedule!
Cooperate with Holy Spirit, as you pray for others, just like Jesus did.
Learn to interpret prophetic words and pictures, based on sound biblical principles.
Communicate what God is saying, safely and effectively.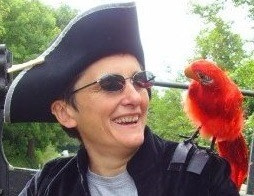 Tim loves God, and is prophetic. His prophecy training is rooted in His love for God, so helps us to grow in the gift of prophecy through focus on and love for the gift-giver.
Consequently, the training is given in an atmosphere which is accepting, loving, empowering, encouraging and fun. All feel welcome to take part and learn, as well as contribute to each other's learning, by giving and receiving prophecy in a safe place.
Joy Ahearn
Former Pastor, Guildford Community Church
One-off fee for full access, including future updates!
Get 50% off:
Enter "lockdown" at checkout where it says "Got a code?"
Standard
Self guided - just the School
PLUS
School PLUS Support and Discussion
Everything in Standard, plus:
Group
Want to study with friends?
20% discount for groups of 5 or more!
100% Satisfaction Guaranteed
Course Curriculum
What People Are Saying About 4 Steps Prophecy School
---
The 4 Steps Prophecy School is very interesting, with an easy to follow format. Practical ways to spend time getting into Gods presence were invaluable. I would recommend that everybody from housewife to Managing director should do this course!
---
I joined the 4 Steps Prophecy School to improve my use of prophecy.
It was very factual and helpful to someone not sure about prophecy.
---
This course is an uncomplicated straightforward one where Tim clearly and simply states the process without being sensationalistic! As I have kids, I think it's something even they could grasp and be able to do.
One particular moment stood out... ...that night I had a significant dream which related to me and my presentation of prophecy and being bold in the words I receive and not hiding from this gift.
---
...the teaching is thorough, Biblical and well structured. It was interesting to see how well it lined up with what I was taught before. That was the confirmation I needed.
[I learned that] I may say what I hear with boldness if I have the sense that the timing is right, regardless of the response. The response is not my responsibility! Thank you for that teaching.
---
I would recommend it and I have recommended it to a close friend.
My Ah ha moment was where you mentioned the open ended questions and even suggested that one could stay in touch with someone you've ministered to and pray for them.
Tim Bader
4 Steps Prophecy School Creator
About the Author​
I'm Tim Bader, creator of the 4 Steps Prophecy School. I'm a writer, author and church leader, and I train Christians in the gift of prophecy.
My heart is to release people to hear God's voice for themselves and others, so they can prophesy with confidence.
100% Satisfaction Guaranteed
100% Satisfaction Guarantee
You are fully protected by my 100% Satisfaction-Guarantee. If you don't feel ready to share prophetic words and pictures with others within 14 days of registering for the course, just let me know and I'll send you a prompt refund.
Frequently Asked Questions
What is the 4 Steps Prophecy School?
How will the 4 Steps Prophecy School help me?
What's included in the 4 Steps Prophecy School?
How long does access to the 4 Steps Prophecy School last?
What's included in the curriculum?
​How much does 4 Steps Prophecy School cost?

What's in the Plus edition and how much is it?
What about sales tax or VAT?

What if I don't get on with the course? Do you offer any guarantees?
---
---
* P.S. the small print: 'Lifetime access with free updates' means access to the current edition of the course.
If in the future, I create a major new version (for example, on a new host and/or with substantial changes to the course),
I reserve the right to charge an upgrade fee for access to that edition, to be determined at the time.
Copyright © 2018 - Tim Bader | Prophetic Edge